Dean Blog: I'm Back / Never Never (DJ Dean Birchum Remix) & Other Never Never Remixes
Never Never (DJ Dean Birchum Remix) & Other Never Never Remixes (Blog Posted By Dean Birchum) :

Hello Remix Fans & Korn Fans This Is Dean Birchum & I'm Back On Never Never Remix Again.

Last time i have 3.5 review & reaction last month on "Never Never (Club Mix)" & Now Thats Gone.

That's Okay That's Unofficial Korn Remix I'm Just Warm Up Back Than.
Some of a fans hated anyway? even i feel sicken my own creation til now... Sorry But Me Too.

But Theres only one remix chance, Is Make A Official Remix Last Month In My Remix Studio Ago,

Working away like anything i've couldn't of imagine & can't stand myself but this Is great.
It sound like dante ross old school remix all over again, but there's only myself doing it.
Pitching it up 113 BPM to get the remix project grooving & going a happy place to put it together.
Everything sound perfect is work work working away, it does bring back the older sound like any old composing remix again without wub dub like in early centuries.
After I'm Done In Month & Three Hour Mixing, Then I just press play.
After I'd Stop & Said "This Is Actually Outstanding, This Is Officially New.
I never never ever stop playing, & This is blast ride like rainbow dash sonic rainboom blasted out of no where in the sky,,, I Lov It!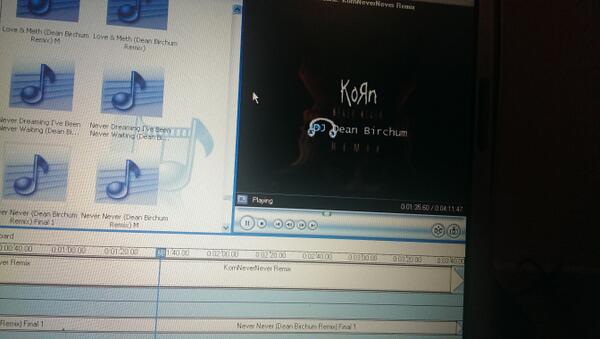 Dean Tweets: "I'm Ready For #Korn #RemixContest Official! Hooray! :D " - @dean2473

So Right Now I'm right here... going to send off this today & i also have a link from other remix composer case some korn fans stop con planing bout other remixes. sorry but it's true & You Are Still Awesome.

other remix composer like
Calvertron & Bro Safari & Now Korn Fans Have To Wait Is JD for the final touch.
I lov All Three Is My Reaction including sneek peek JDevil Remix anyway. "It So Awesome!"
There Great Finding Other remix around. Can't get anything worst?
"I'll would say"Take It, Before Those Remixes Are Gone?" But mine remix will be there, because mine is free.


So Thats It & So Anyway Have A Great Evening & Goodnite...


Dean Birchum (10-23-13)


Korn - Never Never (DJ Dean Birchum Remix)

other Never Never Remix composers
Never Never (Calvertron Remix) (Click Here?) & Korn - Never Never (Bro Safari & UFO Remix) (Click Here)
Korn - Never Never (Jdevil Remix) - "No Official Link (Soon Or Later?)


(Note: Big Remix Fans Only Thanks Metalheads?)