It's not that I collect friends really...it's that I collect enemies.

KoRn is my voice.....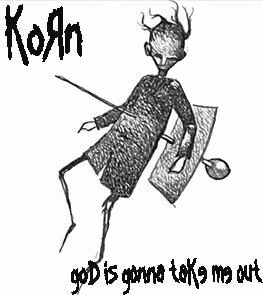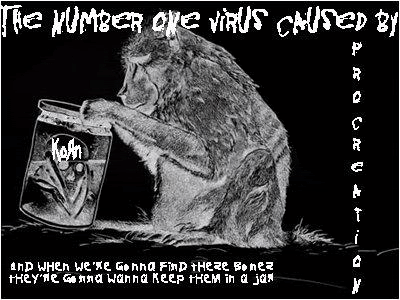 ....my inspiration.

None of you people mean shit to me
Sadistic little fucking fantasy

Everyone's out to take your joy away

Times are looking grim these days
Holding onto everything

Sometimes, I hate, the life I made
Everything's wrong every time

Now I'm guilty, not ashamed
Got this thing attached to me, throw it all away

God, I hear the voices say:

feeling, things crawl on me
I need my fix today

Now....we waste....our lives away
Letting guilt lead the way...
i'm such a stupid fuck

i cant live with all your lies again
i cant trust anything, even you, my friend

And I wish I could steal it
Abduct it, corrupt it, but I never can

it's controlling my mind!
And why do I deserve to die?

Please be aware that I am you
Nothing could be more certain

The damage of betrayal
Take it up with God!

I'd rather be dead than
carry on

A lonely life, where no one understands you
But don't give up, because the music do

Hypocrites!
Your messiah was never mine

Souvenir of sadness
Method to the madness

Don't let them throw me away
Keep me and I'll be okay

Fuck I'm coming
Fuck I'm coming on you

RIGHT NOW
I can't control myself; I fucking hate you

You suck the life out of me
You hate everything you see

Trying so hard to get ahead
Failure is often where I'm led

Outside I had to lie—
"I'm ok"

I cannot survive alone
Feels like I've lost everything that I've known

Trust nobody
I don't know who to call a friend

I fuck with no one
Until you get into my face

I like this game
That you all make me play

There's nothing I can say
I keep feeling like I'm to blame

All I want in life is to be happy (happy)

I tell my lies
And I despise every second I'm with you

Am I still damned to a life
Of misery and hate?

I need a fix
You need it to

We all crumble (It's gonna go way)
We crumble under pressure (pressure)

Seeing all the things you tried
I am nothing

Hating, feeling, falling
To the place where people haunt me

At least you could look at me
While you were raping me

Such a whore
Dirty

Now see it's my fault, angels stabbing me inside.
Nothing changes, just rearranges, for me this time.

So give.. me.. noth.. ing.. just.. feel.
And now this shit will follow.

Really want me to be a good son. Why?
You make me feel like no one.

babtised and born,
we're the Children of the Korn.

Life sometimes pisses me off.
It's never a good trip for me

Come on hillbilly, can your horse do a fuckin' wheelie?
You love it down south, and boy, you sure do got a purdy mouth.

All I hear is disgrace.
Erase them all and reclaim my place.

Every time, god damn, I look at my son (seed), I see something I can't be.
Beautiful and care free, that's how I used to be.

Why is it always
You fuck up something you have always had

Feeling like I'm God
With the world around me

A freak, that I'm sure
A freak, that is yours

I came today to say
You're fucked in every way

They took advantage of me
And then they took their turns hating me

Why do you make me remember my hate, all this shame
Don't you hate me, sometimes?

I don't know your fucking name
So what, let's...

Before long my song is dying
Before long my song is dying

Motherfucking bitch
Never try to play me

This place inside my mind, a place I like to hide
You don't know the chances. What if I should die?!

Why do I try?
Why do I fucking need to?

Throw your hate at me with all your might
Hit me 'cause I'm strange, hit me!

You know what, Fuck you!
I'm fed up with you!

to a world that never
appreciated shit
YOU CAN SUCK MY DICK AND FUCKING LIKE IT!!!

Hidden violence revealed, darkness that seems real
Look at the pages that cause all this evil

Your secret lies that you hide
Is it that terrible being you inside?

Thinking about your life
Thinking about your inner fears

Oh, please GOd don't let me slip in tonight, don't let me die
Please God don't let me give in tonight, don't let me die

I'm not a liar
My God!
Wishing all of you and your families the best this Holiday Season and years to come! Thanks for all the amazing music! Love you guys.