Such a busy week
Today I finally finished my 3 day textiles exam. Basically all you do is choose a question and create a sketchbook and a final piece to reflect your work. You do all the sketchbook work before the exam and the 3 days is to make the final piece. It's just very draining to do 3 days of concentrated work, but I'm soooo glad its over.

The question I chose was 'material manipulation' and I looked at the ways materials have been manipulated through different time periods. Anyhoo, I thought Id share my final piece, because I am quite proud of it, mainly because it was all me. I created the pattern for the piece, did everything. It's just like a collar really, but it took so long. I actually spend over 2 hours just doing beading.

That's no more textiles for me anymore, EVER! Yaay, I enjoy it, especially what I did for my coursework, its like this bunny doll toy with this messed up face and these things coming out of its stomach. Pretty weird stuff, I'll take a picture when I get it back.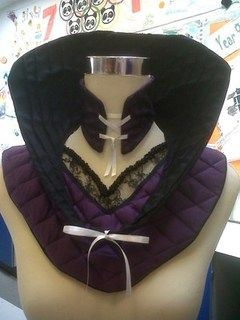 Umm so yeah, hope you had a good week, cos mine was very very busy. I just want to sleep now xD
Thanks for reading.